Explore the wildest orchards with an expert guide who brings forth the juicy fruit.
For enterprise organizations and entreprenuerial activists
$9500
Let's Just Make More Pie 🥧
GET STARTED
Because you're not building your business just to sound like everybody else.
Even the most fierce and fearless entrepreneurs among us can suffer an identity crisis. Who are my people? What do they need? Who am I? What do I deliver? What makes me special, different, or The One?
If you can't truly answer those questions with confidence and clarity, it may be time for Positioning / Messaging.
Express yourself without inhibition.
Time out! Don't waste another minute on an identity crisis. It's hard on your team and it's not doing your sales any favors. You're building a big, beautiful business and/or launching a powerful project; let's get juicy.
Articulate and amplify your vision / vibe.
Highly-sophisticated, deeply nuanced, and absolutely authentic. Branded copy builds rapport with your people by giving them something to believe in. Bake positioning / messaging into the very DNA of your marketing mix and prepare to bask in the glow of confidence and clarity.
Discover
Positioning Applied | Positioning yourself in the marketplace is one of the most powerful ways you can develop your messaging. In order to form any kind of content strategy or marketing plan worth its salt, you need to be able to answer some key questions.
Read it on the blog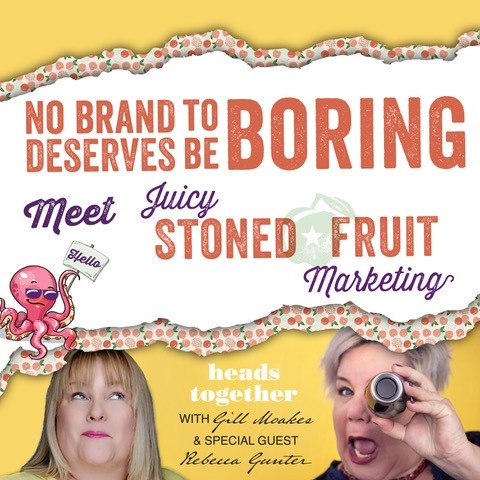 Listen
The Power of Positioning with Rebecca Gunter" on Heads Together | Two blondes from opposite sides of the pond get into a powerful discussion about the Power of Positioning and put the "and" in brand for risk-taking, freedom-seeking entrepreneurs who refuse to settle for a 'lite' version of their dream business
Listen on the podcast
DIY Download
Print-n'-Go worksheets to craft a highly-sophisticated, deeply nuanced, and absolutely authentic positioning statement that inspires massive marketing magic. (Because no brand deserves to be boring.) From the upcoming book, This Is Positioning.
Download the PDF
Business and brand done right.
Wherever you want to go, whatever you want to get into, we've got a talented brand guide that will help you articulate the absolute soul of your business and bring it to life. Deeply understand your people, explore your own uniqueness, and walk confidently into any business arena like a (pit)boss.
Timelapse
Brandformation
with King Productions
We do what others don't—explore unique aspects and the lesser-seen sides of your business and market them in a way you can champion.
Expert, intuitive brand guides
Our experienced, multi-talented brand guides will keep you feeling seen, learning new things around every a-ha moment, and stepping confidently into your r/evolution.
Decades of experience
For 10+ years, the fine folks here have wowed entrepreneurs with exceptional service, creative ideas, and our dedication to your business growth & development.
Gill Moakes
Rebecca has positioned every single pivot/iteration of my business. But more than that, she's positioned every offer, service & program WITHIN my business too. When I began working with Rebecca, I had no idea what positioning even was... yet, for me, it turned out to be the very thing that set the trajectory for the business I have today - the absolute manifestation of my dream business. The process Rebecca guides you through is magical. She brings out from you how you REALLY feel about who you are, what you do, and why. Rebecca then articulates that through positioning and messaging (via her bloody crazy genius with words) to give you the strongest foundation for your business that you could possibly have. Game changer? Pah! LIFE changer. Rebecca, thank you from the bottom of my heart for everything you've done (and continue to do) for me.
Just the FAQs, ma'am.
Investing in yourself isn't for the faint of heart. There is a lot to consider. Time. Money. ROI. Seek comfort and connection on these frequently asked questions.
And if you don't find the answer you seek, reach out.
Ping us 📧
👉 [email protected]
What's a Positioning Statement and why do I need one?
What can I prep in advance ready for my first session?
What else can I do to make this positioning work absolutely sing?
What if we have a timezone disconnect….how are we going to make that work?
Get in the bubble, baby.
Enroll in the mailing list fo more marketing magic and dope drupes.
Preserve the right to an inspired inbox. | We will never share your information with anyone without your consent. | Opt out anytime.