For ambitious disruptors who detest mediocrity
and want to position themselves as far from the commonplace as possible, Stoned Fruit is the converting copy shop teetering the line between wordsmith brainbox and rogue marketer—delivering entrepreneurially-spirited, wildly creative, and tenaciously talented business brands the words they have been looking for.
Experience Radical
Self-Belief
See and be seen with no hesitations.
Awaken to Your Value and Worth
Stand up and stand out or shut up and sit down.
Defy Convention
Nobody ever changed the world with the way we've always done it.
Bring Forth the Soul of Your Business

Fierce, fabulous, and fearless entrepreneurs, you are our people. If it's uplifted enchantment, undying allegiance, and unbridled action you seek, then we are your people, too.
Step into your power, a conduit for authentic engagement, creative expression, and business badassery.


Explore Brand Strategy
Branded Copy, Sun-Ripened and Retail-Inspired
Oh, marketers, they're so quirky. They can do anything they want and it's OK because marketing's job is to get attention.
Hell yeah. If marketing + branding can't be exceptionally fun, then who can? And if no one is having fun, why that's the no-est fun of all. Life is too short for self-induced brand boredom, y'all; let's frolic in creativity, both clever and clear.
🍒🍑🫒🥑🥭🥥
Hop Over to the Copy Shop
Delight in the synergy of consulting and creative collaboration.

PRESS PLAY to get a taste of this special sauce

👩‍🍳😘🤌
But you don't have to take our word for it….
Donna Bordeaux
We've been building this business that I've known could change lives, but how do you get the words and "voice" to tell your perfect customers you even exist? That was always my struggle. Working with Rebecca has helped us harness this vision, and she was able to put it into words. Her ability to poke into hidden gems of our business and really pull out the passion of what we do is impressive. Through her positioning and messaging process, she listens and magically uses the power of words to convert them into a pathway to grow our business. She is a remarkable addition to our marketing team and deeply impacted my life and business.
CalculatedMoves.com
CampgroundAccounting.com
CampgroundCompassPodcast.com
pyopAccounting.com

Marjorie Diephouse
I was referred to Rebecca by a colleague that raved about her. I saw the great work she was doing so decided to jump on board. I was unsure what to expect and I begrudgingly went through her process.
All I can say is WOW- she nailed it! She was able to articulate what I wanted our brand message to be and helped us continue that message through our marketing materials, social media and website. Her skills are amazing and I highly recommend her to anyone looking to work with a master of words to help you get your message out there!
🎙🎧 Podcast people, listen in.
Bursting on the scene like raspberries on the back of your spoon in an English Trifle.
Explore Stoned Fruit, the business, with this bonus episode of Heads Together with our girl Gill Moakes. Meet your new favorite Positioning/Messaging Consultancy (who knew that was a thing?) and Retail Copywriting Agency (or we like to call it, the Copy Shop Co-Op).
Listen to the Special Episode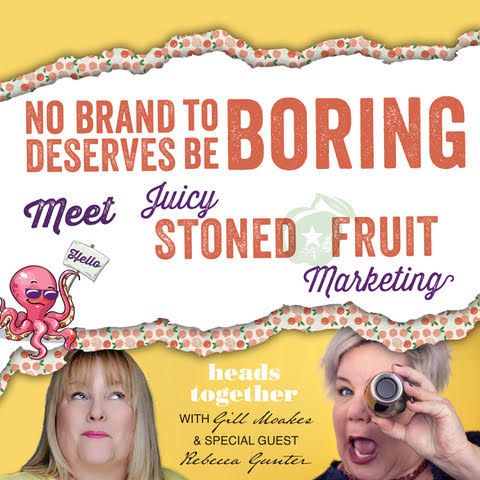 Join Us in the Entrepreneur's Liberation Movement
A mailing list that celebrates the weird, wonderful world of entrepreneurship where rules get buried, scripts get burned and real talk is the only language we speak.
We will never betray your confidence.